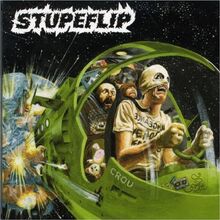 Stupeflip est le premier album de Stupeflip sorti 2003.
Stupeflip
Edit
Liste des pistes du CD Edit
Le Crou ne mourra jamais
Stupeflip
Présentation du crou
Je fume pu d'shit (avec Jacno)
J'refume du shit
Explication n° 1
L'épouvantable épouvantail
Naissance de la Région Sud
Les monstres (avec Tanguy P.)
Crou nostalgie
Avertissement
Carry On
Comme les zot'
Média Terror (avec Mélanie Bauer)
L.E.C.R.O.U. (avec Mangu)
Création de la deuxième Ère du Stup
À bas la hiérarchie
La bavure de Pop-Hip
The Cadillac Theory
Passe mon truc
Stupeflip (home version)
Annexion de la région sud (avec Mangu)
Ad blocker interference detected!
Wikia is a free-to-use site that makes money from advertising. We have a modified experience for viewers using ad blockers

Wikia is not accessible if you've made further modifications. Remove the custom ad blocker rule(s) and the page will load as expected.