"Stupeflip" est le premier maxi publié par le groupe Stupeflip, sorti le 3 avril 2002 uniquement en version CD digipak. Presque un an avant le premier album, ce maxi sert de promotion au morceau "Stupeflip", contenant le morceau original, un remix ainsi que le clip vidéo.
Liste des Pistes
Edit
"Stupeflip" - 3:28
"Comme Les Zot' (version crue)" - 1:35
"Stupeflip (version prière)" - 3:53
+ Stupeflip (clip)
Auteurs-Compositeurs : Julien Barthélémy
Sauf Stupeflip : J.Barthélémy/J.Barthélémy-Stéphane Bellenger
Editeur : Metamusic
Enregistré au studio Metamusic & Boup Factory - Montreuil en Février 2002
Mixé par Fred Scott - Réalisé par Jean-Philippe Benoit
Scratches by Dee Nasty
Auteur/réalisateurs : J-P. Michel & J.Barthélémy
Réalisateur : Nicolas Charavet
Production exécutive: Next Picture
© 2002 BMG France / Metamusic
Illustration : Julien Barthélémy
Graphisme : Jean-Paul Michel
La couverture de l'album, réalisée par Julien Barthélémy (possiblement à l'acrylique) est inspirée d'une photographie publiée le 28 juillet 2011 sur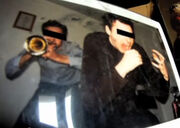 youtube pour illustrer le morceau
Crou Nostalgie
. On y voit bel et bien Julien Barthélémy à l'avant-plan, et Stéphane Bellenger jouant de la trompette derrière. Il est également intéressant de noter que l'intérieur ainsi que le dos de la pochette est un autre artwork représentant la même scène, mais vue depuis l'arrière des personnages.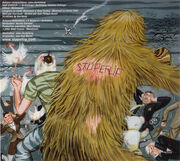 Ad blocker interference detected!
Wikia is a free-to-use site that makes money from advertising. We have a modified experience for viewers using ad blockers

Wikia is not accessible if you've made further modifications. Remove the custom ad blocker rule(s) and the page will load as expected.